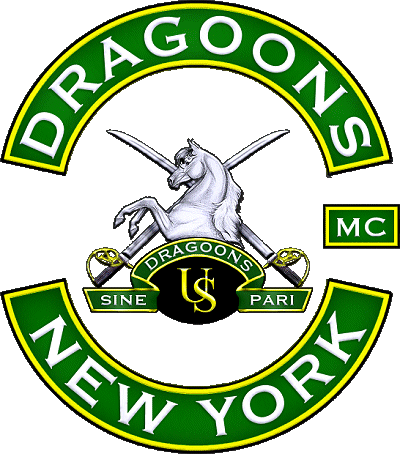 The Dragoons' colors consists of the three-piece patch design incorporating a top rocker, bottom rocker, and center-piece. Only full Dragoons members are authorized to display this configuration.
The center patch was designed after the traditional look of the European and Canadian military (Dragoon) unit badges from whom we adopted our name. The components of the badge/patch and their meaning are as follows:
Silver (Iron) Horse: Representative of the modern day "iron" steeds that we ride.
Crossed Swords: Invokes the military and para-military nature of our professions.
Scroll: Placeholder for our name and motto.
Fob/US Monogram: Denotes our founding members' federal roots.
The Dragoons MC has adopted an official motto which can be found on the left and right wings of the scroll. The motto "Sine Pari" is Latin for the term "Without Equal". For us, "Without Equal" stands for our commitment to holding ourselves to a higher standard both professionally and as a club.